The Largest Natural Freshwater Lake in the West
Our location on the shore of Flathead Lake is one of the elements that sets us apart from all other guest ranches. Spanning nearly 30 miles in length and 16 miles across, Flathead Lake is one of the ranch's much-loved playgrounds.
The beach on Flathead Lake is a popular gathering spot in the afternoon, while Captain Scott takes guests out on the glacial-fed waters on our historic sailboats. Additional water recreation includes lake cruises, canoe races, swimming and watersports.
As a guest at our all-inclusive dude ranch and resort, you have access to sailboats, stand-up paddleboards, canoes, kayaks, wakeboards, water-skis, surf boats and more for individual lake adventures on one of the most pristine freshwater lakes in the world.
Activities
CHARTER LAKE FISHING
Drop a fishing line into Flathead Lake, where you can land a massive lake trout.
SEA PLANE ADVENTURES
Take to the sky – and lakes – on a tour over Flathead Lake and northwest Montana.
FLY-FISHING
Float and fish Montana's famous waters with an experienced guide or outfitter.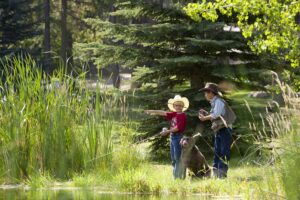 FISHING POND
Perfect for kids, cast a fishing line on our stocked pond.
CANOEING
Paddle to your heart's content on Flathead Lake and take in the views.
KAYAKING
Kayak the snow-fed waters of Flathead Lake, with easy access from our marina.
FLY CASTING INSTRUCTION
Learn to cast like a pro under the watchful eye of an experienced fisherman.
YOGA
Stretch your muscles and take in the view of Flathead Lake from our yoga platform.
SAILING LESSONS
Our backyard lake is made for sailing, with wide-open waters and ideal conditions.
SAIL ON THE QUESTA
Set sail on Flathead Lake on our 51-foot Q-class racing sloop.
WATER SPORTS LESSONS
Whether you're ready to wakesurf, wakeboard, waterski or try something new, our lessons can help.
No matter if you're a novice or experienced sailor, there are a variety of sailboats to choose from at the ranch. The smallest sailboat is 14 feet long, with our largest being our 27-foot Olympic Class Solings. We also have two historic and well-maintained 51-foot Q-class racing sloops, the Questa and the Nor 'Easter, that were built in 1928 and 1929 as prototypes for America's Cup boats. If you'd like to sail Flathead Lake's incredible waters, our sailing crew can take you out for one to two hour sails aboard these majestic boats.
Lake cruises are offered several times each week and take passengers around Flathead Lake, with stops that include Bigfork Bay and the Flathead River. From our lake cruiser, you can take in views of the Swan and Mission mountains or watch bald eagles and osprey dive for fish.
When your backyard is Flathead Lake, water activities play a huge role in summer recreation. Every afternoon (and some mornings), our Malibu boats pull surfers, wakeboarders and water-skiers off the dock and into the snow-fed waters of Flathead Lake. This is a great opportunity for experienced water sports enthusiasts or first-timers to try their hand at water activities. Plus, we provide all the gear you need, including water-skis, wakeboards, surf boards and life jackets for children and adults.
Our heated pool – which overlooks Flathead Lake – is always a popular place at the ranch. It's centrally located, relaxing and is a great place to read a book, catch up with friends, relax or watch your kids water-ski.
In addition to our staff-led water recreation, we have canoes, kayaks and stand-up paddleboards available for individual use, making it easy for you to experience the waters and beautiful shorelines of Flathead Lake.
Whether it's fishing with the kids in the on-ranch pond or dropping a line in Flathead Lake, fishing opportunities abound. And if you'd like to do some guided fishing? We can connect you with guides for both lake fishing and fly-fishing on a nearby river.