Flathead Lake Lodge and the Surrounding Area
While our private 2,000 acres of terrain makes it feel like our Montana dude ranch is far from town, we're really just a stone's throw away. Here at Flathead Lake Lodge, we get the best of both worlds—easy access to urban offerings and a ranch stay that's well-rounded and firmly rooted in Montana history and heritage. Plus, our private and safe property encourages freedom and gives guests room to roam, while making it easy to access nearby offerings like Glacier National Park, Bigfork and the Bison Range.
Activities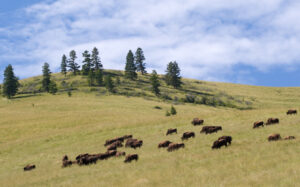 BISON RANGE
A scenic 40-minute drive from the ranch, the Bison Range is prime for wildlife watching.
BIOLOGICAL STATION
Learn about the biological station and what goes into monitoring Flathead Lake and its watershed.
BIGFORK
Explore Bigfork, the village on the bay that's home to art galleries and local shops.
GLACIER NATIONAL PARK
Cruise the Going-to-the-Sun Road and soak up Glacier National Park.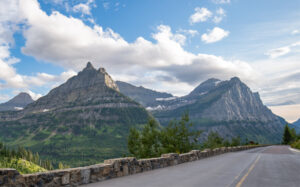 GNP PRIVATE TOUR
Take a private tour in Glacier National Park and explore the Crown of the Continent.
GUIDED LUNCH HIKE
Hike in the Swan Mountains, followed by a riverside or mountain meadow lunch.
SUNRISE HIKE
Start the day with a guided hike and move your body in the Big Sky.
GUIDED HIKES
Set out on a group hike in the surrounding Swan and Mission Mountains with one of our guides.
Adventures
Here at Flathead Lake Lodge, one of the key elements that sets us apart from other ranches is our location. A Montana mountain guest ranch, we sit on the shore of Flathead Lake and have a private bay that allows us to offer incredible water recreation. With lakefront access and acres of mountains, we offer unparalleled experiences on both land and water. Located in the heart of the Flathead Valley and just west of the Continental Divide, we're surrounded by the Swan, Salish and Mission ranges of the Rocky Mountains.  
Located 60 miles south of Flathead Lake is the Bison Range. Located on the Flathead Indian Reservation, its owned and managed by the Confederated Salish and Kootenai Tribes. Today, visitors can drive its 18,500 acres for a chance to see wildlife, including bison, elk, deer, antelope and black bear, as well as more than 200 species of birds.  
A 45-minute drive from Flathead Lake Lodge will take you to the west entrance of the Crown of the Continent, Glacier National Park. Home to more than 1 million acres of glacial-carved terrain, the park has incredible scenery, wildlife-watching opportunities and guided tours that share the history of this place. A vehicle reservation system is in place for many areas of the park – including the North Fork, Going-to-the-Sun Road, Two Medicine and Many Glacier Valley – for 2023. Get the latest information here.  
Located 1 mile from ranch is the charming village of Bigfork, Montana. Sitting on the bay of Flathead Lake, Bigfork is a hopping community with a walkable downtown that's home to fine art galleries, restaurants, watering holes and shops.